Welcome to Orange Appalam, one of the best papad manufacturers in India and a leading Appalam Suppliers and Exporters in India.
Available Papad Varities:
Orange Masala Papad – As Indians Love Spicy Food. For People Who Want Spicy Papad.
Orange Plain Papad – For People Who Like Less Spicy Papad Made From Udad. High Protein Content.
Orange Disco Papad – Also known as coin papad. The most commonly used papad variety in hotels, canteens and caters. In high demand during wedding season.
Garlic Papad – For people who love garlic. Usually consumed more during winters. High protein content. Taste best when roasted in micro wave.
Red Chilli Papad – Contains pure red chilly powder. Consumed in bars for side dishes.
Orange Appalam Papad – Hygienically hand made from pure udad dal and rice flour. Huge expansion post frying. Consumed by southern India and huge demand in UK.
Rice Papad – Hygienically hand made from pure rice. Does not contain and pulses. Hence very easy to digest and light. Can only be fried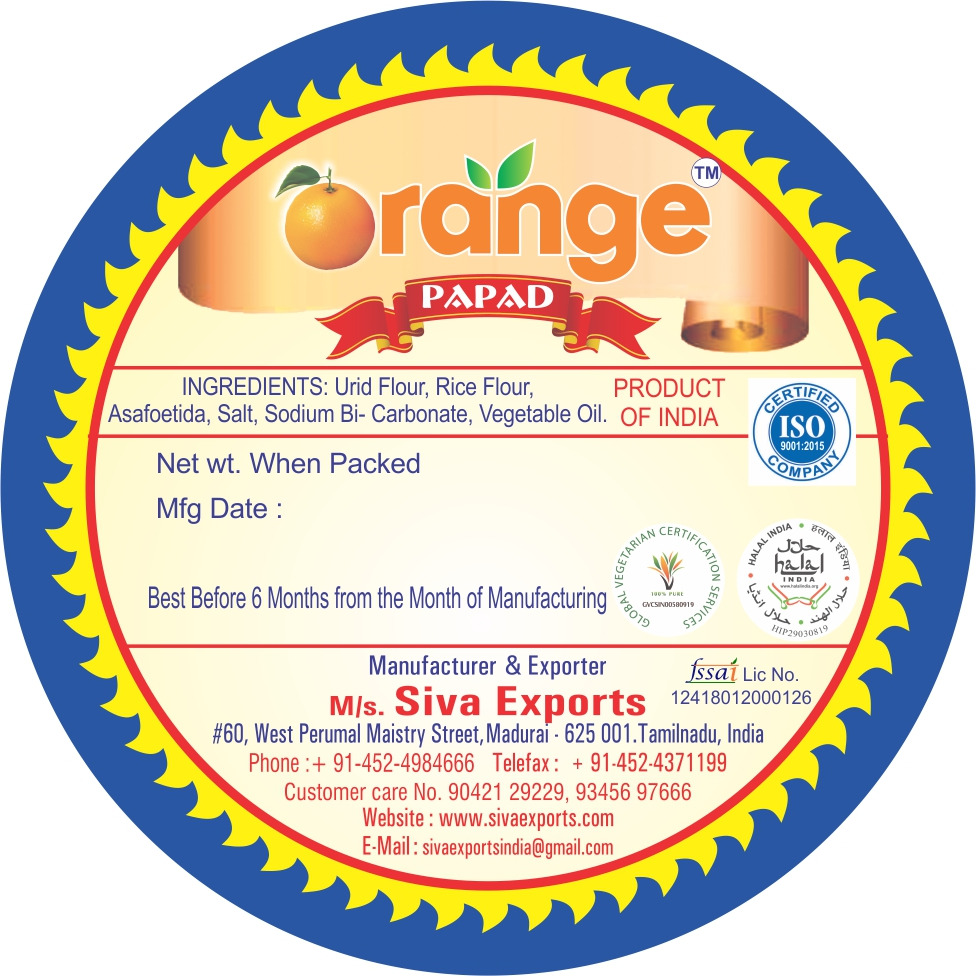 Papad is a thin, crisp disc-shaped Indian food typically based on a seasoned dough made from urad flour. It is also  fried or cooked with dry heat. Also It is typically serve as an accompaniment to a meal in India.
we have a big range of Indian Papads such as Plain papad, Cumin papad, Pepper papad, urad papad, garlic papad, Red Chilli papad, Green Chilli papad, and Chips papad. These papads are manufacturing by hands as well as machines. Besides being biggest manufacturers and exporters of Udad dal papad in India, we also deal in variety of Oils.